Jet Aerator 700LL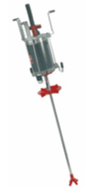 Jet Aerator 700LL has no current relay to replace.
Jet Aerator 700LL's new improved handle makes it easier to pull the motor for the service.
Jet Aerator 700LL's new improved power cord is made of flex cord which will eliminate shorts from vibration.
All new sealed unit will provide many years of reliable service.
As a licensed Jet distributor, we have full access to all
Jet Aeration parts
. With our expertise we can troubleshoot over the phone most Jet aeration problems. We also have
Motor Rebuilding Kits
for 660FP and 665LL Jet aerators.
For more information on our Jet Aerators, please
contact us
at 618-632-3594 or
info@jetprecast.com
.
---